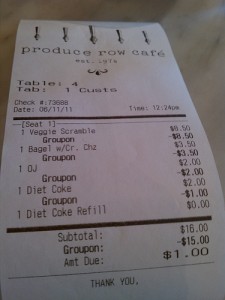 A couple of evenings ago, I went to a little spot around the corner from my house, here in the far north side of Chicago.  It's a friendly little place, and I like it quite a bit — their prices are fair, their food is decent, and some of the folks on staff recognize me and say 'hi' when I come in.  What's even better is that they have a nice selection of microbrews, scotches, and even some really rare stuff from time to time.
So, I'm sitting at the bar, enjoying a burger and a Guinness, and a fellow comes in and stands next to me while he collects his order from the bartender.  He'd ordered a to-go order of some sort of food, and I noticed he was using a Groupon to help pay for it.
"So," I asked the bartender, "what are your thoughts on the whole Groupon thing?"
The bartender surprised me with his reply.  "It may well put us out of business," he said.