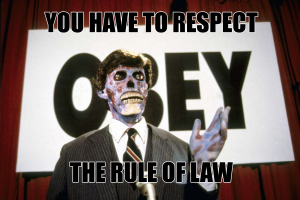 … is that it's a really easy way to get people to ignore thinking about the ramifications and consequences of the particular situation, focusing their attention instead on the general opprobrium for the principle of order. The mind gets caught thinking about whether laws, in theory, are good on the whole, and forget to think about the ACTUAL ISSUE under question. Some examples:
"We need voter ID in this country to make sure there is no election fraud. Don't you care about the rule of law in our democracy?"
"We can put up our satanic monument in the state capitol building, because if you let the christians do it, you have to let any other religious groups do it. That's what the rule of law means!"

"The President's executive order on immigration is making a mockery of the rule of law by bypassing the will of Congress"

"Those violent protesters really have some good points, but they should respect the rule of law and just let the cops and the justice system do their jobs."
It's a handy, general-purpose argument for whenever you want to try to defend the status quo from anyone who'd like to change it.