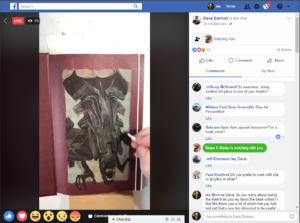 Lately, one of my favorite things to do is to check out art demo videos on the internet.
It's always fascinating to watch someone who's an expert at something do their thing in real time, particularly in creative pursuits. Often, when a person encounters a work of art, it's in the context of a final, finished work. Perhaps it hangs in a gallery, or appears on a book cover, or perhaps in a magazine or in an advertisement. And of course, I always enjoy seeing finished works. But it can obscure the fact that reality has a surprising amount of detail, and just having a look at the finished work (particularly if it's a reproduction, and not the original) doesn't reveal the process by which the work came to be. Why did they make this decision? How did that detail get made? Where were the mistakes or the false starts?
When I was a kid, the only time you'd ever get to see artists actually producing work was if you took a class, or you watched Bob Ross (or his many imitators) on PBS. Thankfully, in this day and age, we can often get a much richer experience of an artist's creative process.
A quick YouTube search turns up a zillion tutorial videos on any number of topics, in whatever medium you like.  Like this fellow doing a portrait in oils:
Or maybe you like digital paintings? I know I do. There is a whole genre of videos called "Speed Painting," which can be amazing; you get a time-lapse of a whole work coming together:
Painting not your thing? Why not check out a sculpture video?
Maybe you'd like to hear the artists talking about the techniques as the work unfolds?
Perhaps there is a particular style or artist you are fond of, and you'd like to learn more about how they made their works.
No matter what kind of art you're into, there's someone making videos showing off how they do it. That's why it's become one of my favorite ways to spend some time; you can get art lessons from all across the world, in any style or medium you like, at a moment's notice. The whole world is your art teacher.