One more thing: the last time I checked, more people used the Yellow Pages as a reference tool than Google.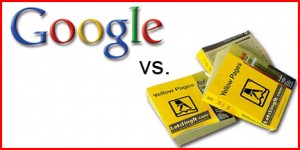 Suffice it to say, I found this claim somewhat unbelievable, since I personally haven't had a yellow pages book in my home for over ten years now.  I can't think of anyone else I know who does either.  Last time I used the yellow pages, I was in a hotel room, looking for local pizza delivery.  (That must have been five years ago at least.  These days, I just use the GrubHub app on my smartphone. That way, I don't even have to take my wallet out of my pocket or talk to anyone on the phone.)
So I decided to check it out.  It's a claim of fact, so it should be pretty easy to find out, right?
I fired up Google Chrome, and typed "yellow pages statistics" into Google's search engine, which naturally yielded about 20 million hits.
Some fun facts about the yellow pages:
"Nearly 70% of adults in the U.S. 'rarely or never' use the phone book, according to a recent survey conducted by Harris Interactive. Instead, most of them (60%) use the Internet to find contact information, a number that's certain to continue to rise, especially as smart phone adoption and location-based services both grow."
"All demographic groups seemingly ignore internet yellow pages, search engines are the preferred channel for ages 18-54 and even the 55-64 group is at a statistical parity between search and print yellow pages (+1% YP).  At 15% penetration in the 65+ group it should be noted that even seniors can no longer be ignored on the Web."
Here's a nice table with % of various age demographics, and the information sources they use to find out about local businesses.
In 2011, San Francisco banned print yellow pages delivery throughout the city, except to those people who specifically request them.
The Product Stewardship Institute claims local governments spend $54 million a year to dispose of unwanted phone books and $9 million to recycle them.
Over 43,000 households in Seattle have opted to no longer receive printed phone books, since a law passed there required companies to provide an opt-out option.
The Yellow Pages Association, the trade group repping publishers of the yellow pages, changed it's name a few years ago to the "Local Search Association".  Hmm.
Incidentally, that same trade group, the Local Search Association, will tell you themselves that just a little less than half of the people they surveyed used the print yellow pages in the last month.
AND, just for fun, and for the sake of comparison, I picked a yellow pages company (DEXO, NYSE) and Google, and compared their performance as investments, over the last two years.  Google Finance even drew me a pretty graph for comparison.  Turns out, DexOne is down 94.09% in that time, and Google is up 16.66%.  Take a look for yourself.
Finally, I'll include a joke that I found on the first page I looked at: "Why are the Yellow Pages like nursing homes? They're shockingly expensive, few people under 70 use them, and many who do are just a little out of it."
Considering that Google processes something on the order of two billion searches per day, every day, I'd say the answer is no.  More people use Google these days than use the Yellow Pages.