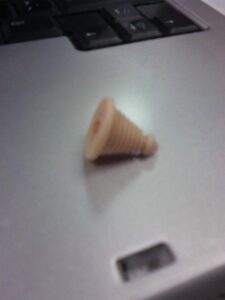 So today is my 34th birthday. Woo hoo! One step closer to the grave. It's also the first time in my life that I've had to wear a coat outside because of the cold in June (!).
Last year, my best present was from my sister, who gave me my very first human skull. Well, my second human skull, if you count the one I'm using to house my brain.
This year, my friend Kat kept the good times going by making me a present of a trocar button! That's a little piece of plastic that embalmers screw into the holes they leave in your body, to keep your corpse juices from dripping out. It's totally going into my collection of strange and unusual objects of curiosity! Thanks Kat!