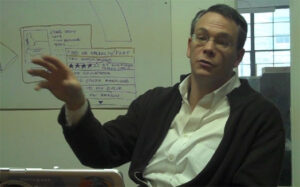 Joe Born wants to change the way you use your television.
Born, chief executive officer, of Neuros Technology International, is an entrepreneur in the classic sense. He got his start in the 1990s with a patent on a device for repairing damaged CDs. Then in 2001, he started Chicago-based Neuros Technologies, which started out making portable digital audio products, much like Apple's ubiquitous iPod.
On Wednesday at the Neuros headquarters downtown, Born showed off his company's newest innovations. In a small conference room with whiteboards scrawled with notes and flowcharts mounted on exposed brick walls, he walked through the operation of the Neuros LINK, a device that is known in technical circles as a "media extender." A media extender enables users to access digital media such as MP3s and movies stored on a home computer, and then watch or listen to them on a television or living room stereo.
"Joe Born is an important pillar of Chicago's technology community," said Michael Krauss, co-chair of Chicago Mayor Richard M. Daley's Council of Technology Advisors. "He's a true entrepreneur and inventor that has succeeded more than once, and is challenging convention with his Neuros products."
The thing that sets Neuros' products apart from many of their competitors is the emphasis the developers put on using open hardware and software systems as much as possible, instead of building proprietary, closed systems that leave the user at the mercy of the company that built them. "These products are all open source, all the source code is out there," Born said.
He added that the LINK was Neuros' most open device to date, and it relies heavily on community-driven development and open software.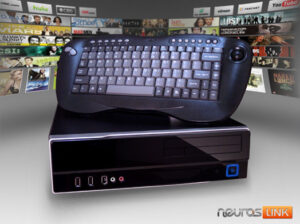 The Neuros LINK is basically a PC designed to be the "brain" of the entertainment center in the living room. It's a full-featured machine that is specially designed for audio and video applications. It runs on open-source Ubuntu Linux and uses open-source XBMC as media center software.
The device streams video from a home server or network attached storage, and supports a wide variety of video and audio formats. It sports high-speed ethernet and wireless connectivity, and will play back web video from sources, such as Hulu, Amazon, and YouTube.
Soon Neuros LINK will support Netflix Instant Viewing streams as well. It outputs video and audio over HDMI, meaning it plugs  directly to a high-definition television with a minimum of hassles. It also supports six-channel audio and optical audio outputs.
Born says that the LINK fills a void in the current living-room electronics market. "On one end, there's a full-fledged home theater PC, of whatever stripe or variety you want," Born said. "Apple has the Mini, which is sort of in the low end of that vein … and then it goes all the way up to $2,000 or $3,000 machines, generally big, noisy, full keyboard, but no real navigation. On the other end you have AppleTV, Tivo, Roku [a device that streams movies from Netflix], a whole host of embedded devices, but each of those is very limited, it's a cross section, and it doesn't have that comprehensiveness. So the LINK [is] a box that is slimmer and has more friendly navigation, but gives you the comprehensiveness of the Internet."
Neuros.tv is a website designed to complement the Neuro LINK home theater PC. It aggregates online video sources, and sorts videos in an intuitive way. Search for ABC's "Lost" for instance, and Neuros.TV will return the results sorted by season, with the newest episodes first.
Born said the final version will remember which episodes you've already watched, and will highlight the ones you have yet to see. Because it pulls in results from other video services, such as Joost, Hulu, YouTube and FanCast, hundreds of shows are available immediately, on demand. The Neuros.TV site works on any computer, but also has an interface optimized for viewing directly on your television via the Neuros LINK hardware.
The Neuros LINK is currently in what the creators are calling the "Gamma Program," a sort of public beta testing phase. The software and interface are still undergoing substantial development, but the device is available for sale at a small number of retailers, mostly to early-adopters and hackers that want to try out the platform and contribute to the development efforts.  The LINK is priced at $299, about the same as an Xbox 360.  Born said that this testing phase is essential to get the system refined to the point that everyday users can feel comfortable with the device.
"Having stuff that works, and the details ironed out is vitally important," Born said. "You can look at doing this yourself, and you can get it 90 percent of the way there, but if you really expect it to be a consumer product that you can sell and someone can just drop in their house, then 90 percent  is not nearly good enough."
Technology writer Ryan Paul previewed the LINK on the Web site ArsTechnica.com, and wrote, "for experienced Linux users, it just takes a little bit of the usual tweaking to get everything working just right. After that initial time investment, I haven't had any trouble with it at all. It gives me everything I want in an Ubuntu-based set-top box, and it offers a broad assortment of options for third-party media center software."
Born is confident that devices such  the LINK constitute an important next step in the evolving media environment. "It's a very, very exciting and disruptive time; predicting the exact winners and losers and the exact time line is very difficult, but you can't help but look at this and say, this is going to change everything."
Note: This article was first published on the Medill Reports website on 4/15/2009.  Some edits were made for this version, now posted for my own archives.