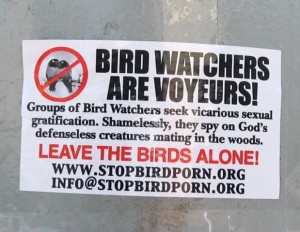 So I found this at the Chicago News Bench blog.  The author is a little bit crazy in the "socially-conservative" sense, but it's a nice little pic snapped near my house.
Stopbirdporn.org is a real website.  I suggest checking it out.
From their front page:
"Adults, disguised as bird watchers mask their debauchery by taking trips in groups. They can then achieve climax in the safety of the woods. Particularly disturbing is the high number of senior citizens using binoculars and telescopes to observe birds mating. These horny Peeping Toms satisfy their craving for sex by focusing their debasement on birds. This perversion must be halted, otherwise the entire moral fibre of our nation is going to hell.".
I love it.