So if you're looking for a meal that you can cook at home, which isn't too hard in terms of technique or ingredients, but which will strike your friends as fancy as heck, let me suggest you consider doing a menu that's based around a duck.
Duck is one of those proteins that most folks never get around to experimenting with at home, so it has a kind of implication of the exotic.  It's also fairly easy to work with (assuming, of course, you're not uncomfortable working with a whole bird).  Additionally, you've got the added benefit that when you cook a duck, you get as a by-product a whole bunch of beautiful, golden duck fat, which you can use for a variety of other stuff for the next month or two.  If you buy rendered duck fat on it's own, it's a fairly expensive proposition.  Amazon has it for $15 a bottle, for instance.  That's the cost of an entire frozen duck.
I like to prepare my duck two ways — I sauté the breasts in a pan, and I do the rest of the meat as a kind of mock confit.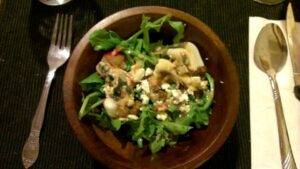 You break down the duck, and strip off all the skin and fat that's left on the carcass (leave some of the skin and fat on the legs, thighs, and wings).  Cut all the skin and fat in to small morsels, then render them in a low pan for about 30 minutes or so.  All the little bits get brown and crunchy, and all the fat melts out.  Strain it out, keep the fat, and the crackly brown bits are yours to use as you like.  I like to add them to the salad, for instance.  They're like little chicharrones. Pro-tip — use some of that duck fat when you make the salad dressing, too.  Just sub it in instead of olive oil.
Take the duck breasts and set them aside.  The rest of the duck pieces go into a baking dish, skin side up.  Salt and pepper them generously, add a little thyme or whatever herbs you like.  Pour the reserved duck fat over the meat; you should have enough to nearly cover it, but not quite.  Then stick that bad boy in the oven at about 300 degrees for about two, maybe two and a half hours.
That long, slow heat draws even more of the duck fat out, and the skin crisps up slowly.  The meat itself takes on this velvety, luscious quality from practically poaching in the fat.
Then, before you serve, slash the layer of fat on the duck breasts in several places, and sauté the duck breasts skin side down in a medium pan.  Flip them once, after the skin has gotten a deep brown.  Shoot for cooking them a little less than you think they need; if they're medium, they're perfect.
Slice the breast, serve it with some of the confit, and boom, duck two ways.  Make a little pan sauce if you like to serve with the breast meat.
Here's how it looked when I served it with some fresh asparagus and turnips from the farmer's market: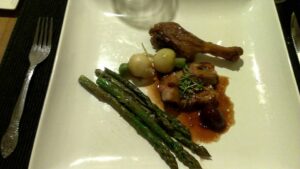 Not to mention, you've probably still got some duck bones and carcass left. Throw that in the stock pot, make up a slow-cooked batch of duck stock, and then freeze that shit. Next time you're making a soup or a sauce or a risotto or something, reach for the duck stock and push the awesomeness to the next level.
If it's value you're interested in, you can hardly beat duck. One bird goes a long way in terms of ingredients.  By the time you've used up everything you've made, you'll have cooked at least four or five high-quality dishes, and probably more than that.